U-Pick - Raspberries
Current Condtions:
2012 Raspberry U-pick Update Aug 10, 2012 at 8:30 PM
We will be open on Sat. Aug 11th for the final time this year.
Please return to this page for regular updates on available picking information or phone 1-902-538-9492 or 1-800-507-8844.
Prices: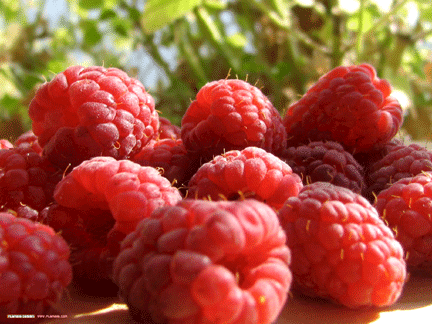 Raspberries are sold by the quart or pint. Boxes and flats for both quarts and pints are available for purchase in the u-pick.
2012 raspberry u-pick price is $4.25 per quart or $2.25 per pint in your boxes. 2012 price is not finalized at this time.
Container Prices; 2012 box price is $.20 each, 12 box flat price $1.25 each, $3.00 for a flat with 12 boxes or if using quarts the 8 quart flat price is $1.00 with flat and 8 boxes for $2.25.
This page will be updated as crop conditions require.
How to find us - Directions